Some of the links in this post are affiliate links. This means if you click on the link and purchase the item, we will receive an affiliate commission at no extra cost to you. All opinions remain our own.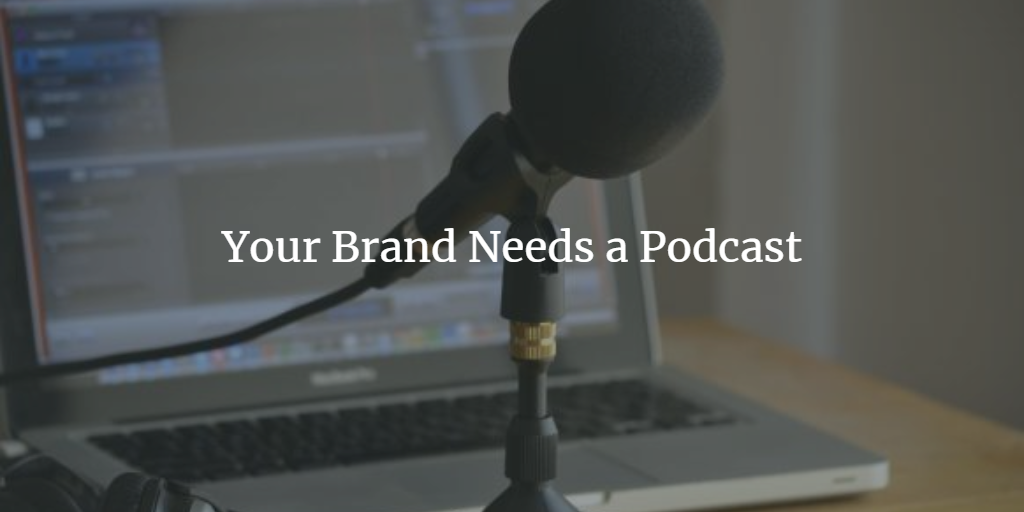 Your brand needs a podcast. Why? With the meteoric rise of smart speakers, not having an audio strategy is no longer possible. Even JP Morgan Chase has hired an agency to handle voice strategy. It is unavoidable at this point.
While there are several parts to a voice strategy, a podcast needs to be one of them. Google recently announced a podcast-specific strategy aimed at doubling the number of global listeners.
Podcast Popularity is Exploding
Here in the United States, 40% of the public have listened to a podcast. 67 million Americans listen to podcasts monthly. This is an increase of 14% in just one year.
Additionally, podcasts are becoming very popular in the UK as well. One-in-ten adults in the UK now listen to a podcast every week.
People are talking about Dirty John, Atlanta Monster, Swipe Left Swipe Left (a hilarious new show about online dating gone rogue).
Podcasting is a powerful, intimate medium that taps into the human instinct for sharing stories.
Listener numbers are growing, and so is the appetite for compelling, on-demand audio content.
If you're trying to win over your organization, point out that podcasting is more popular than Ed Sheeran and Taylor Swift combined.
What's that you say?
Consider this: in April 2017, investigative journalism podcast S-Town saw more than 10 million downloads within four days of release, smashing all kinds of records.
In comparison, Ed Sheeran had 2017's fastest selling album in the U.K. And while he sold a respectable 672,000 copies, Taylor Swift's album sold 1.2 million copies. Do the math.
Podcast Listeners Make Great Customers
Research has shown that half of the United States podcast listeners are college educated.  One-fifth earn more than $100,000 a year.
It appears podcast listeners are young, well-educated, and affluent.
In short, these are dream customers for many businesses.
Podcast Listeners and Quality Time With Your Brand
Podcast listeners are very loyal.
51% of podcast listening takes place in the home, and 23% in the car.
Runners training for marathons have been known to swap tips on the best shows to listen to during long training runs.
People are choosing to listen to their favorite shows during precious free time, inviting podcast hosts into their personal space.
This is evident by the numbers: 86 percent listen to all or most of the podcast episode for an average of five shows per week.
These impressive completion rates show just how engaged listeners are.
People Want to Learn
Research shows that podcast listeners are curious and active listeners with a passion for learning. It has been said that podcast listeners want to learn something new every time.
Could your brand create audio content that enlightens listeners?
The beauty of podcasting is it's perfect for niche content. If you create a podcast about knitting needles, you most assuredly find an audience.
However, it's important to remember that a podcast won't work if you're trying the hard-sell approach.
So the best approach, as with all content, is to be generous with your knowledge and win audience trust and loyalty.
Starting a Podcast Is FREE
You don't need much to start podcasting; some basic audio kit and you're on your way. In fact, you can get started for as little as $90—although you can do it for less.
You'll also need to factor in the time that goes into producing a podcast. This can be time-consuming, but that is why you should hire a professional editor like Yogi's Podcast Network to handle the work for you.
And you need to think carefully about the format, guests, and the frequency of your show.
The very best podcasts are well thought-out. They have interesting guests and speak to the audience's interests and desire to hear great stories and to learn.
Given that the set-up cost is so low, nothing should stop you from getting started once you have a plan in place.
Podcasts Are Here to Stay
Podcasts will only continue to grow in popularity. They are not going anywhere. And while there are thousands out there, it's because the demand for great audio content is growing.
With so many advantages and such low set-up costs, you should consider how to bring your brand story to life through podcasting.
Not sure where to start? Yogi's Podcast Network also offers launch packages that utilize a "done for you" approach. We also offer website services to help with your podcast promotion.